40+ Things to Do This January in Washington, DC
Kick off the new year with an awesome lineup of events, festivals and more in the nation's capital
Washington Capitals vs. St. Louis Blues – Jan. 7
One of the best teams in the NHL's Western Conference comes to Capital One Arena to take on DC's beloved Washington Capitals. Alex Ovechkin and the Caps are currently in playoff position, as are the St. Louis Blues, who are led by high-scoring winger Vladimir Tarasenko, who hails from the same country as Mr. Ovechkin (Russia). The two will clash on the ice in what hometown fans hope is a preview of the Stanley Cup Final – just one of the many reasons to attend a Caps game.
3 p.m. | Tickets
Capital One Arena, 601 F Street NW, Washington, DC 20004
•••
Martin Luther King, Jr. Day – Jan. 15
The nation's capital is a great place to celebrate Dr. Martin Luther King, Jr., especially during the holiday held in his honor. Visit the majestic Martin Luther King, Jr. Memorial on the National Mall before or after you attend the 12th Annual MLK Peace Walk & Parade, a festive community gathering that Dr. King would love. The Washington Wizards also celebrate his memory with a matinee game against the Milwaukee Bucks, an annual occasion that makes for a perfect day-off activity.
•••
Henry Rollins – Travel Slideshow – Jan. 15
Henry Rollins grew up in Washington, DC and made a name for himself as the frontman for one of hardcore punk's most brilliant and insightful bands, Black Flag. Now, Rollins speaks to audiences on an array of topics with his signature wit and aggression. However, this event at Lincoln Theatre will feature something different: Rollins will showcase photographs from his extensive travels around the world. This unique presentation will be full of stories from one of entertainment's most fascinating characters.
8 p.m. | Tickets
The Lincoln Theatre, 1215 U Street NW, Washington, DC 20009
•••
Women's Voices Theater Festival – Jan. 15 – Feb. 15
Following the success of the inaugural festival in 2015, DC's theater community comes together again to mount a citywide festival in celebration of female playwrights. This month-long festival will celebrate the incredible impact that women have on theater, from behind-the-scenes roles to starring on stage. More than 20 theaters in the metro area will stage a new play by a woman, including Folger Theatre, Ford's Theatre and Shakespeare Theatre Company. There are so many reasons to attend this great cultural event – so get your tickets today! And while you're visiting DC, make sure to celebrate the contributions of women at these must-see museums, theaters and more.
•••
Washington, DC Travel & Adventure Show – Jan. 20-21
Looking to get inspired for your next adventure? Mark the calendar for the only travel show in the DC area, which features thousands of experts doling out info on top destinations and must-know travel tips. You'll be immersed in cultures from around the world and can hear from other globetrotters to help you live out wildest travel dreams. This year, keynote speakers include Peter Greenberg, an Emmy Award-winning reporter and CBS News travel editor, and Travel Channel host Samantha Brown.
Saturday: 10 a.m. – 5 p.m./Sunday: 11 a.m. – 4 p.m. | Tickets
Walter E. Washington Convention Center, 801 Mount Vernon Place NW, Washington, DC 20001
•••
Washington Capitals vs. Philadelphia Flyers – Jan. 21
Two archrivals square off in this nationally broadcast, matinee showdown inside Capital One Arena. The Capitals and the Flyers have been playing each other for more than 40 years, forming a rivalry as vicious as any in the National Hockey League. The Broad Street Bullies will come to DC looking to revive their season, as the Flyers are far out of a playoff spot, while Braden Holtby, Alex Ovechkin and the rest of the Caps look to remain in postseason position.
12:30 p.m. | Tickets
Capital One Arena, 601 F Street NW, Washington, DC 20004
• • •
Winter Restaurant Week – Jan. 22-28
Restaurant Association Metropolitan Washington (RAMW) curates two Restaurant Week promotions per year, and you're in luck: one is right around the corner. More than 100 DC-area restaurants will participate, offering up multiple-course and prix fixe meals ($22 for lunch and brunch, $35 for dinner). Sign up for RAMW's Restaurant Week mailing list to stay in-the-know on participants, deals, booking a table and chances to win special diner rewards.
• • •
Spy Fest: A Kidspy Family Festival! – Jan. 26
Espionage skills will be put to the test at this special family festival at the International Spy Museum. Find out if you and yours have the savvy to beat a lie-detector or the ability to defeat a ninja, with these attributes challenged through a series of tradecraft demos and spy skill exams (including "Speaking in Code").
6-9 p.m. | Tickets
International Spy Museum, 800 F Street NW, Washington, DC 20004
• • •
Washington Auto Show – Jan. 26 – Feb. 4
One of the nation's largest auto shows calls DC home, and the 2018 edition will be quite the spectacle. Car lovers will be dazzled by over 600 new makes and models from more than 35 manufacturers. Local sports stars and mascots will be on hand, to go along with a fascinating ART-of-Motion exhibition, VIP tours led by leading automotive writers and chances to Ride 'N Drive vehicles at the show. Grab your tickets quickly: The Auto Show draws large crowds every year.
Tickets
Walter E. Washington Convention Center, 801 Mount Vernon Place, Washington, DC 20001
• • •
Sips & Suppers – Jan. 27-28
Now in its 10th year, Sips & Suppers is a two-evening event that brings some of the country's best chefs and mixologists together to support DC Central Kitchen and Martha's Table. First up is Sips, a cocktail reception that gathers culinary experts (including Joan Nathan and Alice Waters) to share signature dishes and drinks at Newseum. The next day, Suppers features renowned chefs working in pairs to host intimate dinners all over DC that include delicious food and wine and discussions about health and maintaining a sustainable environment.
Sips: Tickets | Suppers: Tickets
• • •
Washington Wizards vs. Oklahoma City Thunder – Jan. 30
The star-studded Oklahoma City Thunder, featuring Carmelo Anthony, Paul George and 2016-17 NBA MVP Russell Westbrook, will roll into Capital One Arena to take on John Wall, Bradley Beal and the Washington Wizards. Expect high-paced, highlight-filled action during this one, as Wall and Westbrook lead two of the most explosive offenses in the NBA. Be sure to check out all the reasons to catch the Wiz in action.
7 p.m. | Tickets
Capital One Arena, 601 F Street NW, Washington, DC 20004
'Imaginary World of The Nutcracker' – Through Jan. 7
ARTECHOUSE presents this interactive exhibit that brings one of the best winter stories to vibrant life. Characters from The Nutcracker will come to life through projections and digital displays that change as you move through them. Expect to see magic trees, snowflakes, toys and of course, the Nutcracker himself. The entire family will enjoy this immersive experience.
Tickets
ARTECHOUSE, 1238 Maryland Avenue SW, Washington, DC 20024
• • •
'1968: Civil Rights at 50' – Jan. 12 – Jan. 2, 2019
As part of its Civil Rights at 50 series, Newseum will highlight the pivotal year of 1968. Explore the essential and tragic events of this year through stunning photography and interactive elements. You will learn more about the assassinations of Martin Luther King, Jr. and Robert F. Kennedy, the important Black Power protest at the Olympics and much, much more.
Hours & Admission
Newseum, 555 Pennsylvania Avenue NW, Washington, DC 20001
• • •
'Americans' – Jan. 18 – 2027
This highly anticipated exhibit at the National Museum of the American Indian is set to make its debut this month. Americans will showcase the immense influence that American Indians have had on the culture and identity of the United States since before the country began. The exhibit will feature more than 350 objects and images that prove this point.
10 a.m. – 5:30 p.m. | Free admission
Smithsonian National Museum of the American Indian, 4th Street SW and Independence Avenue SW, Washington, DC 20560
• • •
'Gallery Experience: The Gettysburg Cyclorama: 1880s Virtual Reality' – Jan. 19
The Hirshhorn Museum's newest installation, Mark Bradford's Pickett's Charge, is the main subject of this gallery experience. Garry Adelman of the Civil War Trust will discuss the art and history of the cyclorama, the mode used by Bradford to depict the Battle of Gettysburg, the most important conflict of the Civil War. Meet at the museum's information desk to join in the experience.
12:30-1:30 p.m. | Free admission
Hirshhorn Museum and Sculpture Garden, Independence Avenue SW & 7th Street SW, Washington, DC 20560
• • •
'Hung Liu In Print' – Jan. 19 – July 8
Chinese artist Hung Liu is the focus of this exhibit at the National Museum of Women in the Arts. Liu is most commonly known as a painter, but her printmaking is also of note, as she uses an array of techniques, surfaces and colors to showcase her unique brand of realism. Her works deal with issues of identity, culture and class, making for a thought-provoking display that you can enjoy through July 8.
Hours & Admission
National Museum of Women in the Arts, 1250 New York Avenue NW, Washington, DC 20005
• • •
'The Marines and Tet' – Jan. 26 – July 8
The infamous Tet Offensive is given in-depth treatment with this exhibit at the Newseum. The unexpected strike from the North Vietnamese forces on the Tet holiday altered the course of the Vietnam War. One of the more than 100 cities and villages struck was Huêˊ, where photographer John Olson captured the violence and its aftermath. His photographs are an essential feature of the exhibit, and 10 of them are displayed in tactile form so that blind and low-vision visitors can still engage with the photos, marking the first major tactile exhibit in the U.S. designed to include blind and low-vision visitors.
Hours & Admission
Newseum, 555 Pennsylvania Avenue NW, Washington, DC 20001
• • •
'Michel Sittow: Estonian Painter at the Courts of Renaissance Europe' – Jan. 28 – May 13
In honor of the centennial of the Estonian Republic, the Art Museum of Estonia and the National Gallery of Art have collaborated on this exhibit dedicated to Estonia's greatest Renaissance art, Michel Sittow. Roughly 20 of Sittow's works will be on display, with an examination of his art in a broader context, including his relationship to his Netherlandish contemporaries, part of this fascinating exhibit.
Hours | Free admission
National Gallery of Art, 6th & Constitution Avenue NW, Washington, DC 20565
• • •
'Outliers and American Vanguard Art' – Jan. 28 – May 13
Challenging popular assumptions about creativity and artistic process, this National Gallery of Art exhibit comprises 300 works by self-taught American artists such as Horace Pippen and Janet Sobel. Observing three separate time periods when popular and underground art merged, the exhibit will also examine recently made, radical work that has shifted the concept of mainstream art altogether.
Hours | Free admission
National Gallery of Art, 6th & Constitution Avenue NW, Washington, DC 20565
• • •
'Wall Flowers: Botanical Murals' – Jan 31 – Oct. 15
The U.S. Botanic Garden presents this colorful new exhibit that may reframe how you view plant life. Large-scale murals from local artists will showcase plants through powerful colors and vibrant detail, highlighting the vital role that plants play in urban environments, not just suburban or rural ones. You'll have a chance to admire botanical art in one of the country's most amazing botanical gardens.
10 a.m. – 5 p.m. | Free admission
U.S. Botanic Garden, 100 Maryland Avenue SW, Washington, DC 20001
'On Your Feet!' – Jan. 9-28
The uplifting story of Gloria and Emilio Estefan will light up the Kennedy Center stage this month. The duo rose from humble beginnings in Cuba to mega stardom on the U.S. pop charts, but not without struggles and tragedy along the way. You will hear classic songs throughout the production, all woven into an inspiring tale of love, perseverance and irresistible grooves.
Tickets
The John F. Kennedy Center for the Performing Arts, 2700 F Street NW, Washington, DC 20566
• • •
'The Humans' – Jan. 9-28
The 2016 Tony Award winner for Best Play comes to the Kennedy Center for a limited run this January. The Humans concerns Erik Blake and his Pennsylvania family, who journey to his daughter's apartment in Lower Manhattan for the first time to celebrate Thanksgiving. During the family dinner, scary sounds are overheard, eventually bringing family fears and foibles into focus. With a cast of stage and TV veterans and riveting dialogue, this award-winning play promises to be one of the highlights of the theater season in the District.
Tickets
The John F. Kennedy Center for the Performing Arts, 2700 F Street NW, Washington, DC 20566
• • •
'The Way of the World' – Jan. 9 – Feb. 11
Adapted from a William Congreve play, this Folger Theatre production asks if true love can overcome the immense importance of wealth and status in a place like the Hamptons. Mae has inherited $600 million, but her boyfriend Henry's dalliance with her aunt inspires her to withdraw from the community. However, Henry has a plan to win Mae back. Filled with physical comedy and witty commentary on the upper class, The Way of the World is satire you won't want to miss.
Tickets
Folger Theatre, 201 East Capitol Street SE, Washington, DC 20003
• • •
'Sovereignty' – Jan. 12 – Feb. 18
Part of the Women's Voices Theater Festival, this Arena Stage drama concerns a young Cherokee lawyer who learns, while fighting for her nation's independence, why some wounds never heal. During her battle, Sarah Ridge Polson must face the tragedies of the Cherokee Nation, encountering historical figures like Andrew Jackson, as well as the ghosts of her own ancestors, along the way.
Tickets
Arena Stage, 1101 6th Street SW, Washington, DC 20024
• • •
'4,380 Nights' – Jan. 16 – Feb. 18
Playwright Annalisa Dias examines post-9/11 America in this timely Signature Theatre play that is presented as part of the Women's Voices Theater Festival. The title references the amount of days that Malik Djamal Ahmad Essaid has been held in the Guantanamo Bay Detention Center without charge. Split between Essaid's interactions with those on the outside and historical events, 4,380 Nights depicts the profound effects that a climate of fear can create.
Tickets
Signature Theatre, 4200 Campbell Avenue, Arlington, VA 22206
• • •
'Hamlet' – Jan. 16 – Feb. 25
The Shakespeare Theatre Company takes on quite possibly the greatest tragedy of Western literature this January. Hamlet comes home from college after his father's sudden death to find his mother remarried, his uncle in power and, in turn, his entire world turned upside down. After being visited by the ghost of his father, Hamlet must decide whether to accept this new reality…or not. You don't want to miss your chance to witness one of Shakespeare's masterpieces at one of the area's best theaters.
Tickets
Sidney Harman Hall, 610 F Street NW, Washington, DC 20004
• • •
'The Wolves' – Jan. 17 – March 4
Dive into the spellbinding world of winter indoor soccer in this new play from Studio Theatre. Meet the Wolves, a team of 16-year old girls who are undefeated on the field but deal with plenty of life's pressures and conflicts off it. The struggles of adolescence, the importance of friendship and the fears of transitioning into adulthood are all central themes in this production penned by Sarah DeLappe, another can't-miss play of the Women's Voices Theater Festival.
Tickets
Studio Theatre, 1501 14th Street NW, Washington, DC 20005
• • •
Kathleen Madigan: Boxed Wine and Big Foot – Jan. 19
In a career that spans more than two decades, Kathleen Madigan has become a household name in stand-up comedy, with numerous specials and late-night appearances to her name. Hailing from the Heartland, Madigan's humor is wide-ranging, from jokes about Midwestern customs to political commentary. Catch her at the illustrious Warner Theatre this January, a great place to see a dynamic performer.
7:30 p.m. | Tickets
Warner Theatre, 513 13th Street NW, Washington, DC 20004
• • •
'Unnecessary Farce' – Jan. 19 – Feb. 10
Hilarious confusion reigns in this crime caper/comedy at The Keegan Theatre. Two cops have set up a sting operation on a crooked mayor, observing a cheap motel room where his female accountant awaits his arrival. However, a mix-up ensues, as no one is sure who's in which room, who's on videotape, where the money is, where that hit man came from and so on. Expect lots of laughs during this production, which is making its DC debut.
Tickets
The Keegan Theatre, 1742 Church Street NW, Washington, DC 20036
• • •
'Jefferson's Garden' – Jan. 19 – Feb. 8
The contrast of America's founding fathers' ideals and the truth of freedom in this country are explored in this new production set to be staged at Ford's Theatre as part of the Women's Voices Theater Festival. A Quaker pacifist decides to fight in the American Revolution. An enslaved woman leans towards fighting for the British due to their promise of liberty. In their journey, the two come across Thomas Jefferson, highlighting the compromises made by America after promising equality. This epic story touches American battlefields, Monticello and Paris, making for one of winter's most intriguing plays.
Tickets
Ford's Theatre, 511 10th Street NW, Washington, DC 20004
• • •
Travis Wall's Shaping Sound: 'After the Curtain' – Jan. 24
Famous for his work on So You Think You Can Dance, Travis Wall and his company, Shaping Sound, bring this stunning new show to The National Theatre for one night only. After the Curtain concerns a man who is fighting writer's block after losing the love of his life. Expect spellbinding dance numbers and powerful storytelling in this performance that is sure to dazzle.
Tickets
The National Theatre, 1321 Pennsylvania Avenue NW, Washington, DC 20004
• • •
'The Lathe of Heaven' – Jan. 25 – March 11
This Women's Voices Theater Festival production will begin at Georgetown University (Jan. 25-27), then move to Spooky Action Theater for a four-weekend run. In The Lathe of Heaven, George Orr can alter reality with his dreams, and of course, there's a doctor who wants to exploit his incredible skill. After the doctor messes with reality, dire consequences unfold. However, there is one final solution that George can execute that could save the world as we know it – and restore a lost love along the way.
Georgetown University Tickets | Spooky Action Theater Tickets
Davis Performing Arts Center at Georgetown University, 3700 O Street NW, Washington, DC 20057
Spooky Action Theater, 1810 16th Street NW, Washington, DC 20009
• • •
American Ballet Theatre: 'Whipped Cream' / Works by Ratmansky, Millepied & Wheeldon – Jan. 30 – Feb. 4
The American Ballet Theatre takes on a slew of noteworthy and inspired compositions in this series of performances, including several by Alexei Ratmansky, the Kennedy Center's current Artist in Residence. His full-length story ballet, Whipped Cream, will be performed from Feb. 1-4, while Jan. 30-31 will see the company dance to works by Jerome Robbins, Benjamin Millepied and Christopher Wheeldon, as well as Serenade after Plato's Symposium by Ratmansky.
Tickets
The John F. Kennedy Center for the Performing Arts, 2700 F Street NW, Washington, DC 20566
Boat Burning: Music for 100 Guitars – Jan. 7
Boat Burning is an experimental guitar project that makes for a truly unique concert experience. This 9:30 Club show will feature more than 100 performers, as numerous instruments come together to create a powerful wall of sound that can sound both classical and very punk rock, with the incredible capabilities of the electric guitar at the center. Visuals will be provided by DC guerilla projectionist Robin Bell. Proceeds will benefit local charity Bread for the City.
8 p.m. | Tickets
9:30 Club, 815 V Street NW, Washington, DC 20001
• • •
Passion Pit – Jan. 9
Led by founder/songwriter/producer Michael Angelakos, Passion Pit represents the pinnacle of electro-pop. Their intricate songs are just as likely to make you dance as they are to make you cry. Beginning with the critical acclaim of Manners in 2009 (which included radio hits such as "Sleepyhead" and "Little Secrets"), Passion Pit have released a steady stream of pop gems, including 2017's Tremendous Sea of Love. Their spirited live show comes to 9:30 Club this month.
7 p.m. | Tickets
9:30 Club, 815 V Street NW, Washington, DC 20001
• • •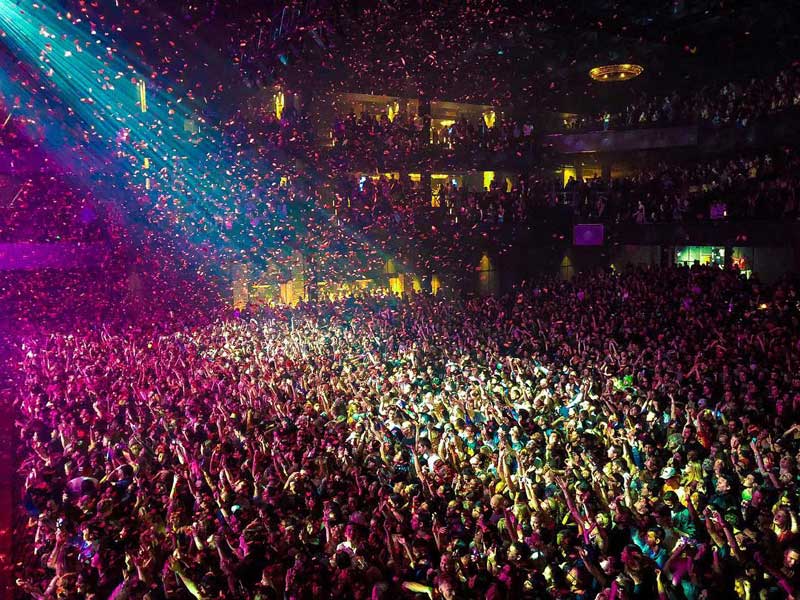 The Disco Biscuits – Jan. 13
The Disco Biscuits are a truly modern jam band, blending electronic and rock music like few other groups have or ever will. Their "trance fusion" has captivated audiences around the world, especially on the festival circuit in the U.S. The Anthem, located at The Wharf, is the perfect venue for the Biscuits' infinitely danceable and expansive sound. You can expect a large crowd for the Philadelphia-based quartet.
7:30 p.m. | Tickets
The Anthem, 901 Wharf Street SW, Washington, DC
• • •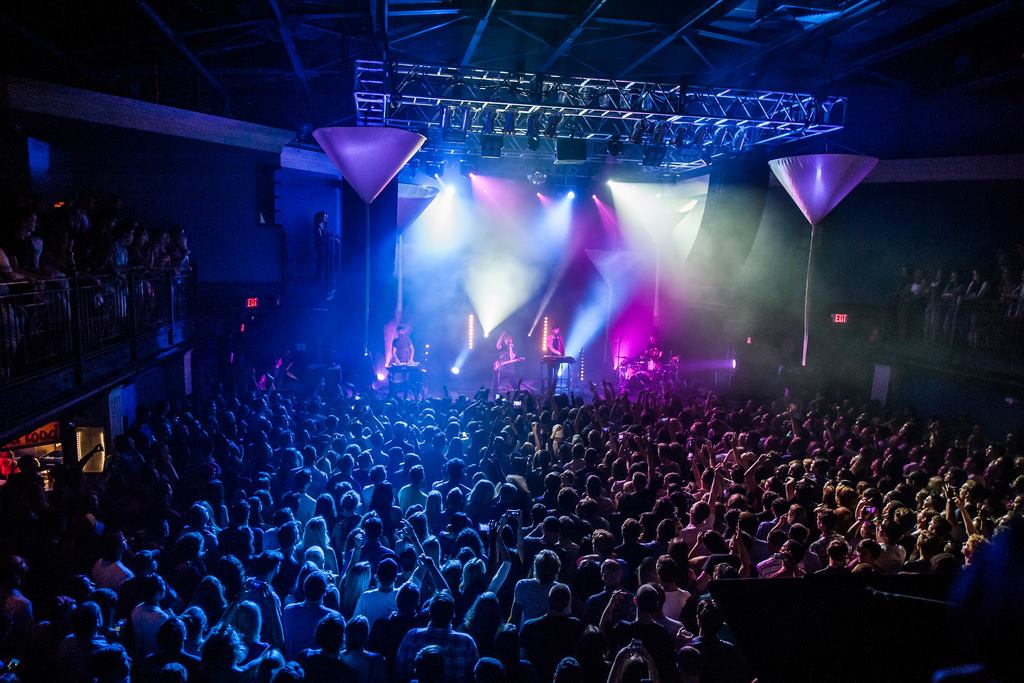 RJD2 – Jan. 13
Ramble Jon Krohn, known as RJD2, is one of the foremost DJs in modern music. His production style consists of mixing a wide range of samples and sounds to create cohesive tracks that have been used as soundtracks to epic dance parties, late-night listening sessions and even one of the most famous television intros of all-time (Mad Men). He'll bring his eclectic live show to the 9:30 Club this January.
8 p.m. | Tickets
9:30 Club, 815 V Street NW, Washington, DC 20001
• • •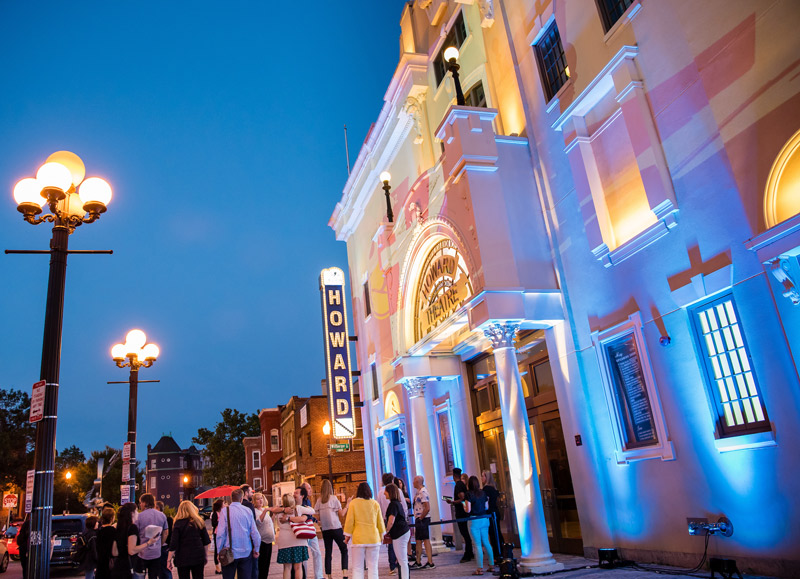 4th Annual MLK Birthday Celebration – Jan. 14
Three of DC's legendary go-go bands will honor Martin Luther King, Jr. Day with a special performance at the legendary Howard Theatre. Rare Essence, founded by the Godfather of Go-Go, Chuck Brown, have been making feet move throughout the District since the mid-1970s. Trouble Funk has been around almost as long (35 years) and have a host of go-go classics to their name. Sugar Bear & EU have been a regional sensation since the 1980s. Experience all three on one stage to celebrate the birthday of America's greatest Civil Rights leader.
8 p.m. | Tickets
The Howard Theatre, 620 T Street NW, Washington, DC 20001
• • •
Shakira – Jan. 16
An international pop star in every sense of the phrase, Shakira will bring her El Dorado World Tour to the Capital One Arena for one night only this January. Fresh off hitting the top of the iTunes charts with El Dorado, the singer/songwriter/world-class performer now has 11 albums worth of smash hits, and you can expect to hear many of them during what promises to be a raucous Tuesday night.
7:30 p.m. | Tickets
Capital One Arena, 601 F Street NW, Washington, DC 20004
• • •
Lana Del Rey – Jan. 25
One of the queens of the pop music charts, Lana Del Rey is one of mainstream music's most distinctive performers, showcasing themes of tragic romance and 1950s Americana in her wholly unique songs. Her most recent album, Lust For Life, hit the top of the Billboard charts, and now she will embark on a 24-date tour that touches down at Capital One Arena on Jan. 25. Get your tickets now, as a sell-out is almost a certainty.
8 p.m. | Tickets
Capital One Arena, 601 F Street NW, Washington, DC 20004
• • •
DMX – Jan. 26
You may remember DMX for being one of rap's biggest tough guys, but he showed off his softer side with this wicked "Rudolph The Red Nosed Reindeer" cover this past November. However, we're willing to bet you'll hear much more of the DMX that put out some of hip-hop's most resounding hits of the 2000s, including "Party Up In Here (Up In Here)" and "X 'Gon Give It To Ya," at this Howard Theatre show. Bring your bark AND your bite to one of the District's most prestigious music venues for this one.
9 p.m. | Tickets
The Howard Theatre, 620 T Street NW, Washington, DC 20001
• • •
Destroyer – Jan. 28
Dan Bejar, who performs under the name Destroyer, has created his own pop music reality, where seminal artists like Bob Dylan and David Bowie can be heard drifting through, but soon retreat to make way for Bejar's stunning idiosyncrasies. Listening to Destroyer is an experience, each album its own profound statement. The critically acclaimed ken is yet another foray into Bejar's fascinating world, a journey you can take via his concert at The Black Cat late this month.
7:30 p.m. | Tickets
The Black Cat, 181 14th Street NW, Washington, DC 20009
• • •
NSO at Mount Vernon – Jan. 30
Encounter the beauty of George Washington's former estate and learn its history before hearing beautiful chamber music from members of the National Symphony Orchestra. Afterwards, you can enjoy a chocolate and champagne reception while chatting with the musicians. This performance is the first of a three-part series, with the last two concerts coming on Feb. 27 and March 20.
7 p.m. | Tickets
George Washington's Mount Vernon, 3200 Mount Vernon Memorial Highway, Mount Vernon, VA 22121
• • •
G. Love & Special Sauce – Jan. 31
G. Love & Special Sauce have been laying down funky grooves for more than two decades, blending hip-hop, blues, R&B and rock into a…..special sauce all their own (sorry, we had to). Led by singer and guitarist Garrett Dutton, the group has released eight studio albums, each featuring their unforgettable and signature sound. Their live shows are always dance-ridden, singalong affairs, so gear up for a party atmosphere at Hamilton Live.
7:30 p.m. | Tickets
The Hamilton Live, 600 14th Street NW, Washington, DC 20005
• • •
#MyDCcool Photo of the Month
Make sure to share your DC photos with us using #MyDCcool, and we may feature yours next month!
For more events, festivals and things to do in Washington, DC, check out our events calendar.